WELCOME TO THE 5TH INTERNATIONAL CONFERENCE OF CLINICAL LINGUISTICS!
¡Follow the Conference online! Click on the following link to follow the plenary communications: link.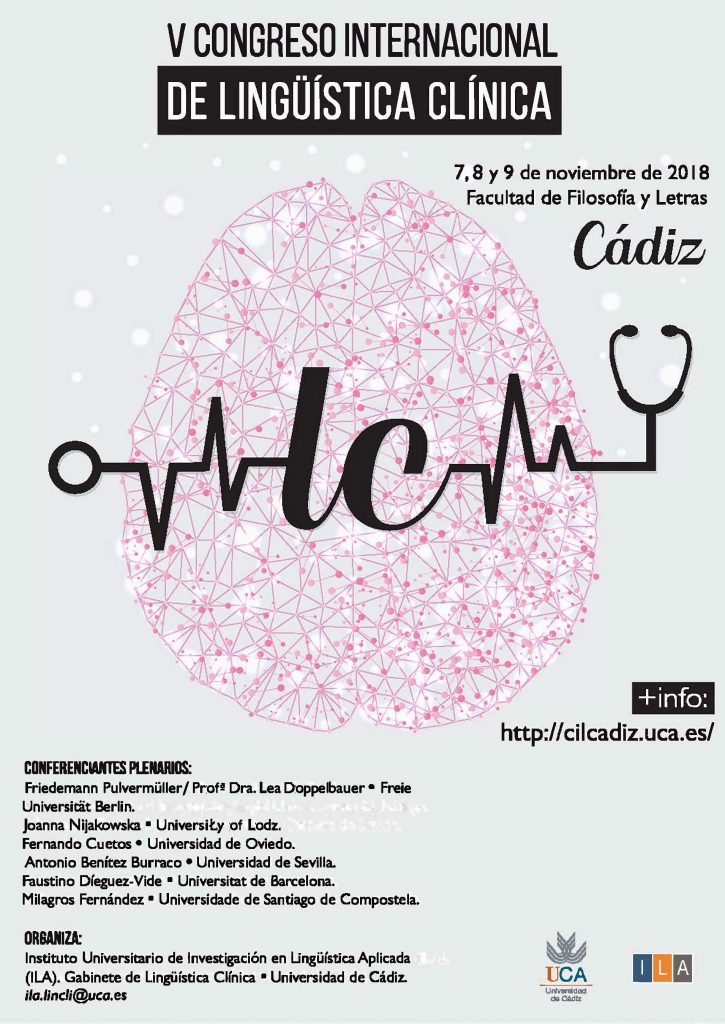 The Clinical Linguistics Office of the Institute of Applied Linguistics at the University of Cadiz organises the 5th International Conference of Clinical Linguistics. It will be held between the 7th and 9th November 2018 in the Faculty of Arts and Human Sciences, located in a privileged place facing the sea within the historic quarter of the city of Cadiz.
    Following the already consolidated trajectory of conferences on Clinical Linguistics in our country (Valencia, 2006; Madrid, 2009; Malaga, 2012 and Barcelona, 2015), we find a new opportunity to strengthen links between the different disciplines that make up the Clinical Linguistics space. The conference aims to deepen the exchange of knowledge and experiences among the attendees. In fact, this conference becomes even more interdisciplinary, since its scientific committee includes professionals in Linguistics, Medicine, Speech Therapy, Psychology, and Physiotherapy.
    In this sense, the participants will have plenary lectures, panels, thematic symposia, communications and posters to discuss the latest developments in our field of study. In addition, we will be able to attend the presentation of clinical cases from an interdisciplinary approach, which is a novelty in this type of conference. In the same way, we hope that the internationalisation achieved in the past editions of the conference will increase in this convocation, for which we have invited important plenary speakers. The official languages of the conference are English and Spanish.
    We hope that your stay in Cadiz is pleasant and enjoy the many charms that the Tacita de Plata has to offer.